In the enchanting realms of Carcavelos, Portugal, lies a residence that is a harmonious blend of luxury and nature – Green Plaza Carcavelos. This exquisite real estate complex is a canvas where nature's brilliance and architectural excellence paint a picture of serene luxury. Let's unveil the layers of thought, design, and precision that have been seamlessly interwoven to craft this magnificent residence.
Complex Name: Green Plaza Carcavelos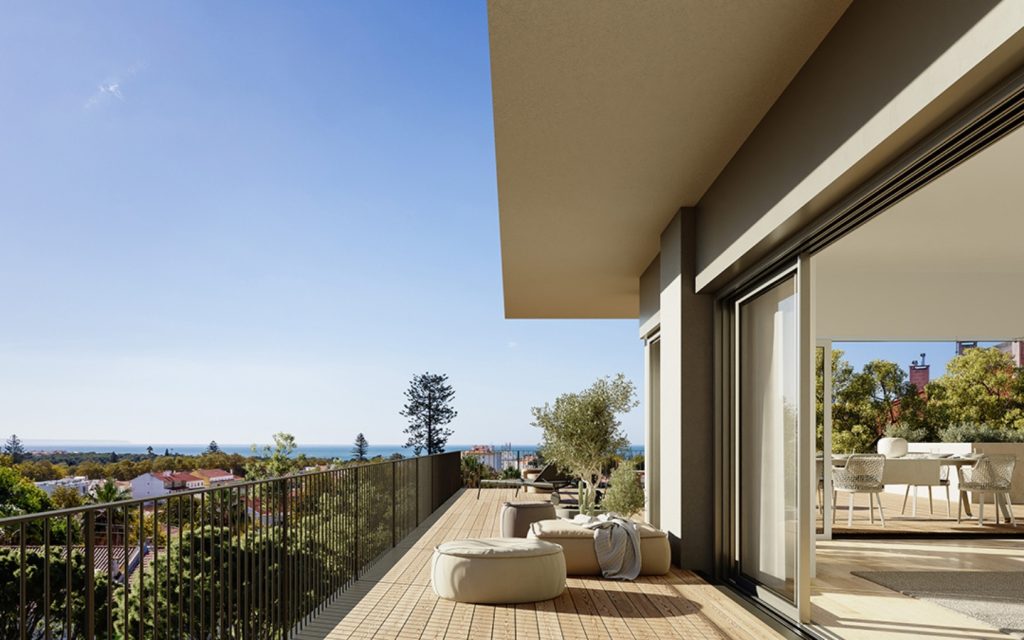 Information about Developer
Inspired Orbit
Inspired Orbit is a real estate developer conceived by Tensai Industria and Manuel João Preto. The developer orbits around the desire to create projects that harmonize form, functionality, style, accuracy, creativity, comfort, elegance, and modernity. Since 2017, Inspired Orbit has been exploring new market opportunities, diversifying from residential projects to healthcare spaces. Their portfolio boasts eight real estate projects in various development stages, each reflecting a commitment to creating worlds of unparalleled elegance and comfort.
Information about Architects
Fragmentos
Fragmentos is an architectural firm that designs spaces promoting a sense of belonging and well-being. The firm is a collective of architects who have been designing ambitious and challenging architectural works for over two decades. Their approach is collaborative, creating teams across services, companies, and geographies, ensuring the delivery of spaces that resonate with luxury, functionality, and aesthetic appeal.
Year of Construction: 2025
Location
City: Carcavelos, Portugal
---
Surrounding Area
Green Plaza Carcavelos is nestled in a location that is a harmonious blend of natural beauty and urban convenience. Carcavelos is renowned for its beaches, proximity to esteemed educational institutions like the Universidade NOVA School of Business and Economics, and traditional green spaces such as Quinta da Alagoa. The area is also adorned with numerous options for outdoor sports, enhancing the prospects for health and leisure. The efficient public transport network ensures seamless connectivity, positioning this luxurious condominium at the epicenter of the Lisbon-Cascais axis.
Complex Description
Building Details: The complex is one six-floor building with 33 apartments.
Features of Architecture and Design: The architecture of Green Plaza Carcavelos is a testament to contemporary elegance and functionality. The interiors of the apartments are bathed in the sublime Cascalence light, enhancing the exquisite finishes and spacious layouts. The design ensures that each apartment is a canvas for residents to paint their unique styles and preferences.
Amenities and Services:
Swimming Pool and Solarium: Yes
Security System: The condominium ensures peace of mind with enhanced security features, ensuring that each space within the complex is a sanctuary of safety and comfort.
Parking: Equipped with parking facilities that also include electric charging stations for vehicles.
Types of Apartments
Available in T1 to T4 flats: The apartments are available in configurations ranging from T1 to T4, ensuring a variety of options to cater to diverse needs and preferences.
Indoor Area: The apartments range in size from 69m² to 202m², offering spaces that resonate with comfort and luxury.
Outdoor Area: The apartment's outdoor area ranges in size from 6m² to 168 m².
Pricing
The price of apartments starts from 500,000 EUR and reaches up to 1,490,000 EUR depending on the area.
Green Plaza Carcavelos is more than a residence; it is a realm where each moment is a treasure of comfort, luxury, and serene living. The thoughtful design, strategic location, and luxurious amenities make it a crown jewel in the heart of Carcavelos, Portugal.
---
Agent Contact Form
CONTACT
Leave your request and we'll contact you in the next 24 hours