Portugal, often heralded as one of the best countries to invest in real estate, boasts a multitude of captivating attributes that draw in investors from across the globe. From its idyllic coastal scenery and picturesque landscapes to its historically rich cities and charming villages, Portugal offers a remarkable tapestry of possibilities. Additionally, the Portuguese real estate market has garnered substantial attention in recent years, positioning itself as one of the most sought-after destinations for both quality of life and promising investment opportunities throughout Europe.
When contemplating the reasons behind Portugal's meteoric rise as a real estate market, several factors come to the forefront. Firstly, the country's Mediterranean climate graces its residents and visitors with an abundance of sunshine and warm weather, making it not only an alluring place to reside but also a prime holiday destination. Consequently, the demand for properties in this coastal haven remains consistently high, rendering it a wise choice for real estate investments.
Affordability further solidifies Portugal's reputation as an attractive hub for real estate endeavors. This nation stands as one of Western Europe's most cost-effective places to reside, with a cost of living significantly lower than that of neighboring countries such as France, Germany, and the UK. Here, your investment stretches further, ensuring an elevated standard of living without straining your finances.
Why Portugal is a great destination for real estate investment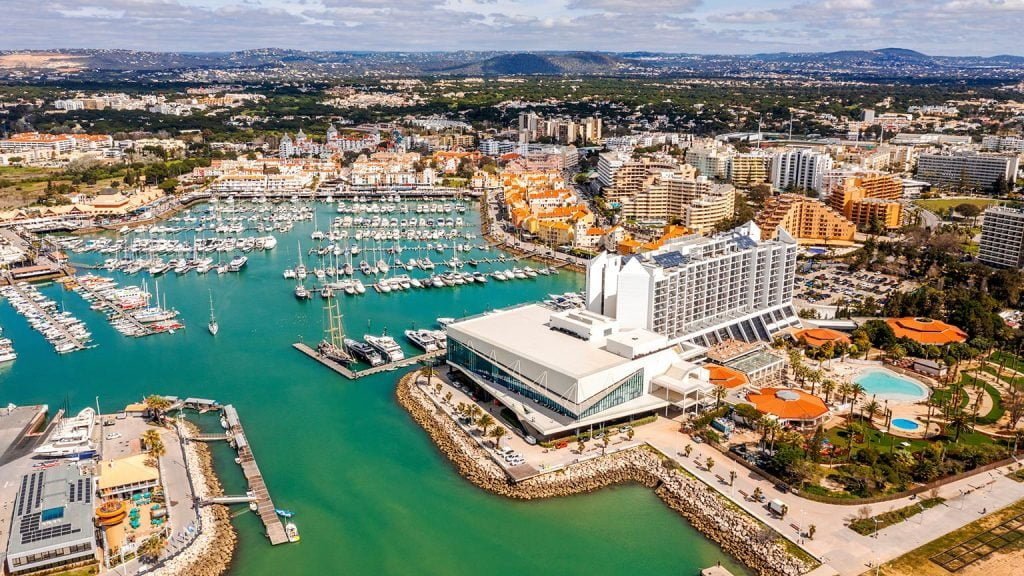 When considering the finest destinations for real estate investment, Portugal invariably rises to the forefront, and for good reason. Portugal's government extends a welcoming hand to foreign investors, offering a multitude of tax incentives and advantageous visa programs, including the sought-after "golden visa" that grants residency or even citizenship to real estate investors. Such initiatives not only reduce property taxes but also open doors to a world of opportunities for those looking to invest in real estate.
What sets Portugal apart as an ideal investment haven is its unwavering political and economic stability. This enduring stability transforms the country into a sanctuary of safety and dependability, offering investors a secure environment for their real estate endeavors.
Portugal's thriving tourism industry further enhances its appeal, making it a prime location for coveted rental properties. Here, you can seamlessly lease your property to tourists for short-term stays, generating a consistent and lucrative income stream. The vibrant tourism sector ensures a constant influx of visitors, guaranteeing that your investment in beach properties and city dwellings will remain a sound financial choice.

Portugal boasts an exceptional standard of living, rendering it a coveted destination for retirees seeking a new place to call home or individuals desiring an exquisite seaside haven. Whether you're in search of the best area to live in by the sea or longing to possess a holiday residence, Portugal offers an array of opportunities.

As if these aspects weren't enticing enough, Portugal's Mediterranean climate adds to its allure, providing an idyllic setting for those who crave a life filled with warmth and sunshine. The prospect of living or owning property in a place blessed with such a comfortable and enjoyable lifestyle is an undeniable draw for investors.

Portugal's real estate market has been consistently on an upward trajectory, presenting a golden opportunity for capital appreciation. The market's sustained growth testifies to the country's robust real estate sector, promising lucrative returns for those who choose to invest here.

Financial security is a top priority for any investor, and Portugal's banking system is just that—sound and trustworthy. Foreign investors benefit from this financial stability and security, knowing that their assets are in reliable hands.
In summary, investing in Portugal's real estate market offers a plethora of benefits. With its unwavering economic stability, accommodating tax laws, and the promise of an attractive and comfortable lifestyle, Portugal stands as the ultimate destination for individuals seeking to make sound real estate investments.
Best Places to Invest in Portugal Real Estate

When it comes to finding the best places to invest in Portugal real estate, one is spoiled for choice in this vibrant and dynamic market. Portugal has firmly established itself as a good place to live, boasting a housing market that beckons with enticing opportunities. Whether you're on the hunt for a good location for buying a house with a sea view, eager to discover the latest trends in house prices, or simply searching for the perfect house for sale, the Portuguese real estate landscape has a multitude of enticing options to offer. Now we will delve into the most promising locales, guiding you through the ever-evolving Portuguese housing market.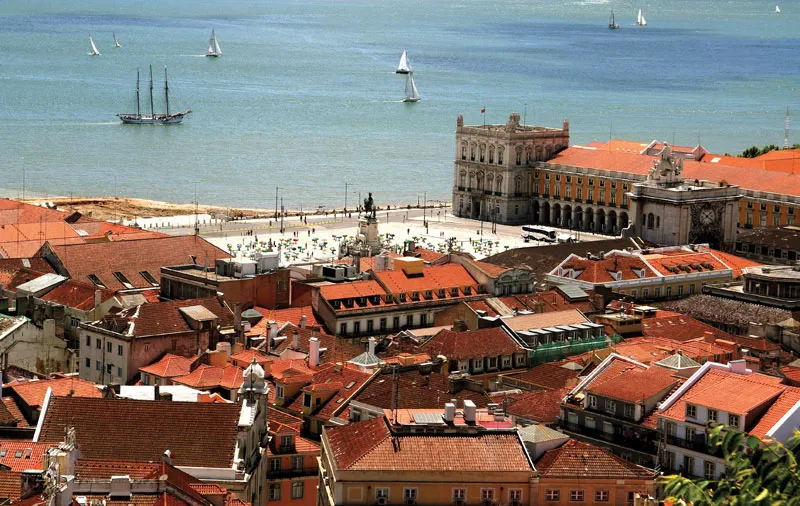 Lisbon, the enchanting capital city of Portugal, stands as a magnetic beacon, enticing those in search of the best place to live in central Portugal, the best city for real estate investment, and the best place for luxury properties. This cosmopolitan hub seamlessly fuses historical grandeur with a modern, vibrant energy, all set against the picturesque backdrop of the Tagus River. Notable landmarks, such as the Belem Tower, the Jeronimos Monastery, and the Sao Jorge Castle, enrich the cityscape, contributing to its rich tapestry of heritage and allure.
Venturing through Lisbon's labyrinthine streets, which wind through steep hills, unveils a visual symphony of colorful buildings, captivating street art, and cozy cafes. Stroll through the historic Alfama district, the heart of soulful Fado music, or lose yourself in the trendy realms of Chiado and Bairro Alto, where cultural innovation meets urban sophistication.
For the epicureans among us, Lisbon's culinary scene is nothing short of a culinary odyssey, graced with fresh seafood, delectable pastries, and flavorful wines. As the sun sets, the city comes alive with a thriving nightlife, offering an abundance of bars and clubs that cater to all tastes.
With Lisbon's temperate climate and sun-kissed skies gracing the city year-round, its proximity to the coast makes it an even more enticing prospect. Whether you're a history enthusiast, a gastronomic explorer, or simply seeking a vivacious and alluring escape, Lisbon promises to hold you captivated at every turn.
Lisbon's status as one of the best cities to buy a house in Portugal is underpinned by its remarkable attributes. The city's real estate market showcases a diverse range of options, from luxury properties in key regions to more affordable choices. Plus, with competitive mortgage rates and easy access to the most visited real estate websites, navigating the housing market in Lisbon is both convenient and rewarding.
Property options to invest in Lisbon
| | | |
| --- | --- | --- |
| | Captivating T4 Apartment: A Class Above the Rest | €3,600,000 |
| | Superbly Designed T4 Apartment: Perfect Blend of Space and Functionality | €3,000,000 |
| | Urban Elegance: Exquisite T4 Duplex with Private Pool Oasis | €2,780,000 |
| | Inviting T3+1 Apartment: Your Perfect Modern Retreat | €2,700,000 |
| | A Fusion of Historical Charm and Modern Luxury in this Spacious T3 Apartment | €2,500,000 |
Explore the entire real estate market in the Lisbon in which you can invest!
Moreover, Lisbon is a hub for top developers, continually pushing the boundaries of real estate innovation, ensuring that the valuation of your investment remains robust. Prices for properties in Lisbon, while reflecting the city's desirability, offer a broad spectrum, starting from 3800 euros per square meter. When it comes to real estate investment, Lisbon truly stands as a crown jewel in Portugal's illustrious portfolio of opportunities.
Invest in Lisbon Riviera and Cascais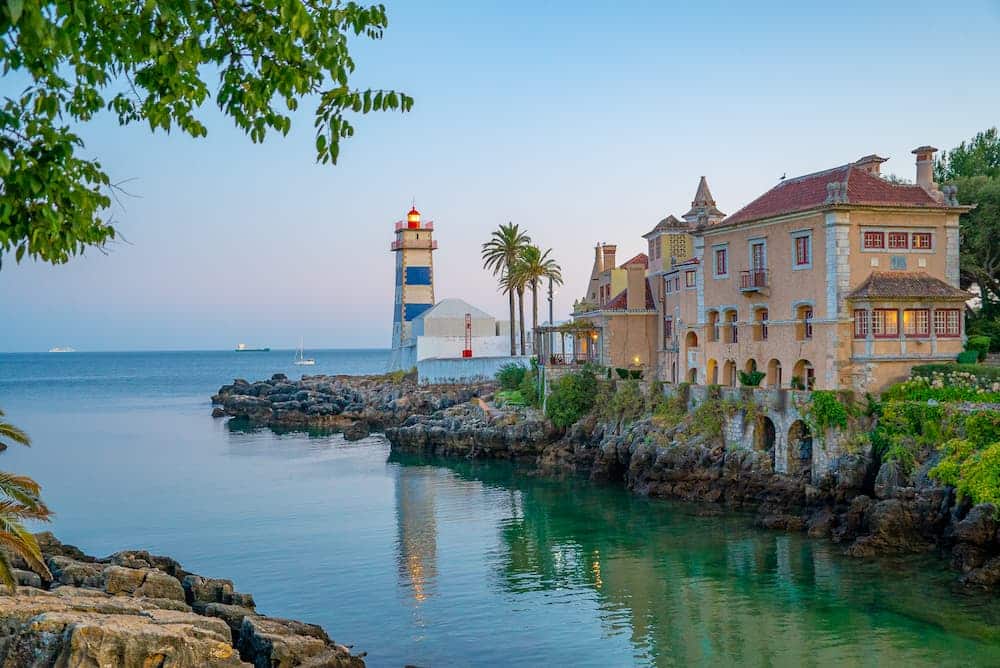 Lisbon Riviera, a breathtaking coastal gem that stretches gracefully along the Atlantic Ocean, from Lisbon to Cascais, holds a magnetic charm that captivates those in search of the best places to live in Europe, the best areas for beach properties, or even the best towns to invest in. This picturesque region, renowned for its pristine beaches, idyllic villages, and historical landmarks, presents an irresistible opportunity for investors and enthusiasts alike.
Cascais, nestled approximately 30 minutes west of Lisbon, emerges as a charming town with a regal history, once favored as a retreat by the Portuguese royal family. Today, it thrives as a bustling tourist hub, attracting visitors from all corners of the world. One of the central attractions of Lisbon Riviera is undoubtedly its array of magnificent beaches. Praia do Guincho, Carcavelos, and Cascais Beach rank among the most popular, offering crystalline waters, sun-kissed sands, and awe-inspiring vistas. Whether you seek a serene spot for sunbathing, an invigorating swim, or thrilling water sports, these coastal treasures have it all.
Beneath the surface of this natural beauty, Lisbon Riviera unveils a wealth of cultural heritage. Stroll through history at iconic sites like the Belem Tower, the Jeronimos Monastery, or the resplendent Pena Palace. And when it comes to indulging the palate, this region excels with its delectable cuisine, featuring fresh seafood, scrumptious pastries, and a range of exquisite wines.
In essence, Lisbon Riviera and Cascais emerge as essential destinations for anyone exploring Portugal. Whether your desires lean toward beachfront relaxation, cultural exploration, or culinary delights, this region promises an experience for every taste. As it stands, Lisbon Riviera is also a magnet for real estate investors, renowned for its enticing opportunities in both housing and land. Developers in this era recognize the immense potential this area offers, ensuring a robust portfolio of homes for sale and houses for sale.
Foreign investors, including US citizens, will be pleased to know that they can acquire properties in Portugal, making this region even more attractive. As the real estate market here continues to flourish, bank interest rates remain competitive, and you can conveniently access the best websites and project listings to explore your options.
Property options to invest in Cascais
| | | |
| --- | --- | --- |
| | Sandcastle Haven: Villa de Areia | €5,450,000 |
| | Luxurious 5 Bedroom Villa: Your Dream Retreat | €4,800,000 |
| | Exquisite 4-Bedroom Villa: A Luxurious Retreat | €4,100,000 |
| | Embracing Simplicity: A Minimalist Masterpiece in Search of Meaningful Lines and Pure Design | €3,850,000 |
| | Tranquil 3 Bedroom Villa: Your Private Paradise | €3,850,000 |
Explore the entire real estate market in the Cascais in which you can invest!
With prices starting at 4500€ per square meter, Lisbon Riviera stands as a formidable contender in the world of real estate investment, beckoning with its fusion of natural splendor and potential.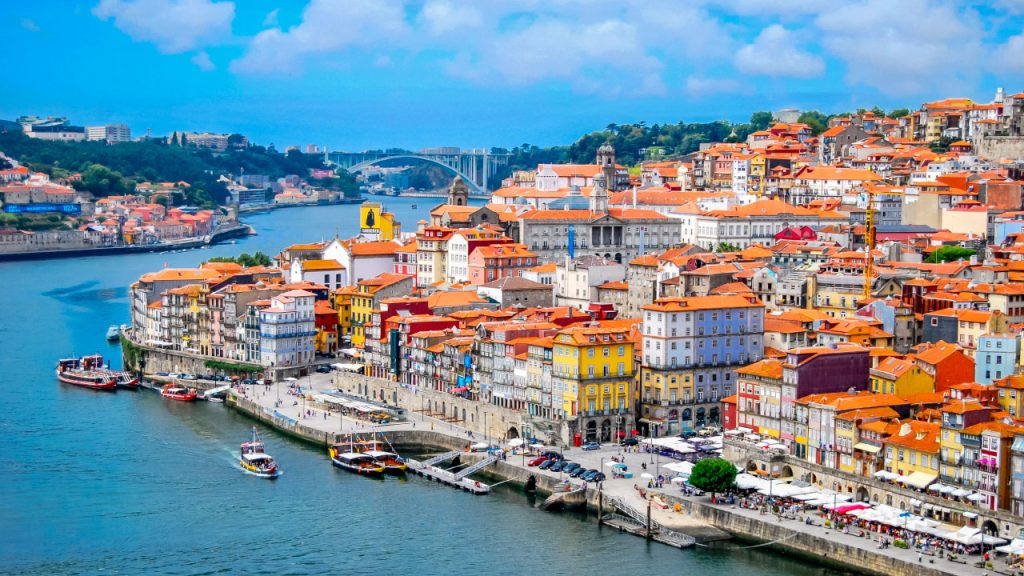 Nestled in the northwest of Portugal, Porto emerges as a vibrant city, renowned for its picturesque streets, historic treasures, and delectable cuisine. Positioned gracefully along the banks of the Douro River, the city has etched its name in the annals of history as the epicenter of port wine production, surrounded by sprawling vineyards. A leisurely stroll through the charming lanes of the Ribeira district reveals a tapestry of vibrant, colorful houses and bustling cafes, epitomizing the city's distinct charm.
Porto, a city teeming with cultural riches, boasts a portfolio of impressive landmarks that beckon to be explored. The 12th-century Porto Cathedral, the Torre dos Clérigos bell tower, and the Serralves Museum of Contemporary Art stand as testaments to the city's historical and artistic wealth, enticing enthusiasts and history buffs alike.
Beyond its historical grandeur, Porto shines brightly on the nightlife stage, luring visitors with a diverse array of bars and clubs that cater to every taste, ensuring an unforgettable experience for all.
Porto, with its unique fusion of history, culture, and modernity, emerges as a magnetic destination for exploration in Portugal. It embodies the essence of why Europe is the best place to live, offering a unique lifestyle that harmoniously blends past and present. Additionally, Porto's real estate market presents a captivating opportunity for investors, whether they seek premium properties for sale, properties with land, or simply a villa to buy.
For those seeking the best cities for real estate investment, Porto deserves a place at the top of the list. Its dynamic stock market and access to REITs (Real Estate Investment Trusts) add to the allure, allowing investors to stake their claim in the real estate arena. And when it comes to discerning how to get rich in real estate, Porto's offering is abundant, with a variety of properties for sale and rental, with the highest ROI in mind.
Property options to invest in Porto
| | | |
| --- | --- | --- |
| | Luxurious T4 Detached House: A Jewel of Elegance in a Premier Residential Project | €3,125,000 |
| | Ultimate Luxury: Exquisite Penthouse with Pool and Rooftop Oasis | €2,500,000 |
| | Unveiling a Masterpiece: Brand New 4-Bedroom Duplex Redefining Luxury Living | €2,190,000 |
| | Exclusive Luxury: Your Dream Two-Storey Residence Awaits | €2,100,000 |
| | Exquisite T5 DUPLEX Flat Nestled within a Luxurious Condominium | €2,000,000 |
Explore the entire real estate market in the Porto in which you can invest!
Moreover, the city offers a multitude of choices for acquiring permanent residency by investment, further enhancing its appeal. In this quest for investing in real estate, one can explore the pros and cons of buying in Porto, all while enjoying a spectrum of options for premium living, catering to diverse tastes and preferences. With prices commencing at 2500€ per square meter, Porto remains an attractive destination for investors seeking affordability and potential, ensuring it retains a prominent place on the European real estate landscape.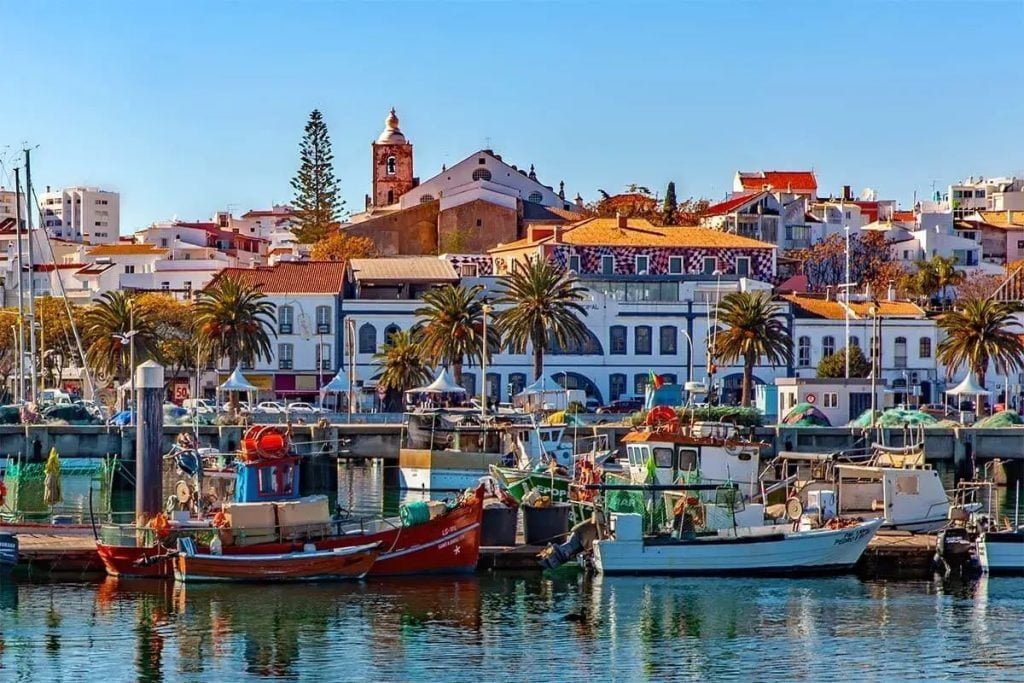 Nestled in the sun-kissed southernmost part of Portugal, Algarve beckons as one of the best locations for those seeking the best place to live, the best place to buy a villa, and the best places to buy real estate. This captivating region is renowned for its stunning beaches, basking in the embrace of a warm climate, and pulsating with a vibrant nightlife that draws tourists from all corners of the globe.
Algarve stands tall on the global stage as a coastal haven, boasting long stretches of sandy beaches that invite visitors to unwind, sunbathe, and partake in exhilarating water sports like surfing, jet skiing, and snorkeling. Praia da Rocha, Praia do Vau, and Praia de Albufeira stand as shining examples of this coastal paradise, offering an array of choices for those seeking condos for sale or land for sale.
Beyond its natural allure, the Algarve plays host to a plethora of charming towns and villages that are waiting to be explored. The picturesque town of Lagos, the quaint fishing village of Alvor, and the historic city of Faro stand as testament to the region's rich tapestry of culture and heritage, making it an attractive destination for those considering buying a holiday home or starting a business as a foreigner.
As the sun sets over Algarve, the region unveils a vibrant nightlife scene, replete with a multitude of bars, restaurants, and clubs to choose from. Vilamoura and Albufeira, in particular, offer visitors a glimpse of Portuguese nightlife at its most vibrant, making it an ideal place to buy to let or invest in properties with potential for rental income.
In essence, Algarve serves as a comprehensive showcase of the best Portugal has to offer, from its idyllic beaches and breathtaking landscapes to its rich culture and delectable cuisine. Its alluring qualities extend to the real estate market, with properties to buy starting from 3000€ per square meter, providing investors with opportunities to harness the region's potential for growth and investment success.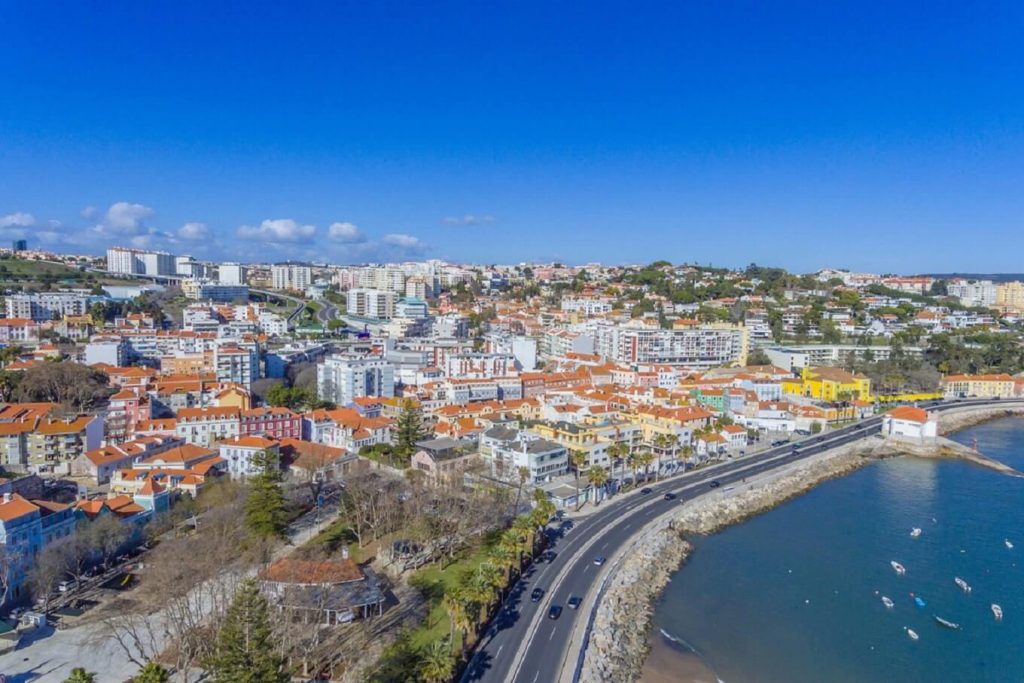 Oeiras, often regarded as one of the best places to buy in the world, emerges as an enticing prospect for those seeking the best places to invest, the best places to start, or the best places to live. Nestled in the heart of Europe, it is renowned for its seamless blend of seaside charm and proximity to Lisbon, which is considered one of the best cities in Europe.
Oeiras offers a diverse array of real estate options, from buy to let condos for sale to houses for sale near the beach. The region's real estate market is characterized by affordability, offering an escape from the housing bubble pitfalls that have impacted other areas. The cost of buying a house in Oeiras is notably reasonable, making it an attractive option for those seeking the best value for their investment.
While Oeiras offers close proximity to the bustling city life of Lisbon, it also boasts the tranquility of the countryside. This fusion of city and countryside living makes it an appealing destination for those looking to buy a house near the beach or in the countryside, depending on their preferences.
With Oeiras being known as one of the hottest places for real estate investment, it's essential to explore the guide to homes for sale in the region. The up-and-coming areas in Oeiras are ripe with potential, offering a bright future for investors. The region has garnered attention from top companies in various industries, contributing to its status as one of the richest places in the country.
Property options to invest in Oeiras
| | | |
| --- | --- | --- |
| | Exquisite Elegance: Discover the Luxurious 4 Bedroom Penthouse | €4,100,000 |
| | Seaside Serenity: Discover the Exquisite 7+1 Villa with Contemporary Architecture, Heated Salinated Pool, and Sun-Kissed Wooden Deck Lounge | €3,850,000 |
| | | €3,850,000 |
| | | €2,500,000 |
| | Magnificent T4 Apartment with 5 Bathrooms and 4 Suites in Prime Location | €1,986,450 |
Explore the entire real estate market in the Oeiras in which you can invest!
For those considering a move to Portugal or even seeking citizenship, Oeiras is a prime destination. It offers a cost-effective route into Portuguese citizenship, ensuring that investors can call this beautiful part of the country home. Oeiras, with its favorable housing options, is the perfect backdrop to embark on a journey into real estate investment, providing a blend of affordability, proximity to major cities, and promising growth potential.
In Conclusion: Your Path to Profound Real Estate Investment in Portugal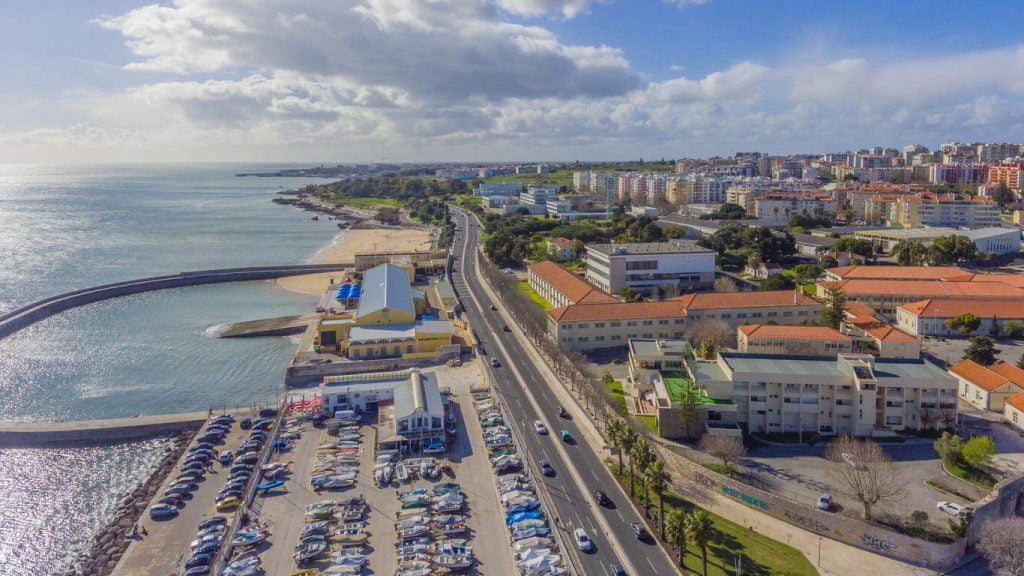 These regions represent not just a good place for real estate investment but a remarkable opportunity to secure your financial future. Over the recent years, the Portuguese property market has witnessed a substantial surge in property values, offering investors the promise of robust returns. Whether you aspire to own a holiday home by the beach or seek to dive into the thriving rental market, Portugal's real estate sector shines as one of the best places to buy in the world.
What sets Portugal apart is not just the attractive figures on paper but also the enticing lifestyle it offers. With beautiful beaches, a vibrant culinary scene, and warm, welcoming locals, Portugal boasts some of the best cities to live in and the best areas to live. It's a country that caters to both residents and foreigners alike, promising an appealing quality of life.
For those who are eager to embark on this exciting journey into the Portuguese real estate market, we encourage you to reach out to us. Roca Estate stands as one of the best agencies in Portugal, with a network of regional agencies across the country, from Cascais to Faro. Our team of dedicated professionals and expert agents possess an intimate knowledge of the Portuguese real estate landscape. We are primed to equip you with all the information and support you need to make sound investment decisions. Rest assured, we'll guide you in finding the perfect property that aligns seamlessly with your needs and budget.
In Portugal, you're not just buying a house; you're investing in a prosperous and enriching future. It's crucial to emphasize that purchasing real estate in Portugal is not merely a transaction; it's a strategic investment for a successful future. Don't miss out on this remarkable opportunity to secure your financial well-being. Your journey into Portugal's real estate landscape begins here with Roca Estate.